Known for
India Gate, the Red Fort, Lodhi Garden, Pandara Market, the Delhi Metro…
This is
Delhi

.

Welcome to Delhi, the capital city of India and a melting pot of culture, history, and modernity. Delhi is a bustling metropolis with a rich history dating back to ancient times. From the grand Mughal monuments to the bustling streets of Old Delhi, the city has something to offer everyone.

One of the best ways to explore the city is by using the Delhi Metro. The Delhi Metro is a modern and efficient mode of transportation that connects the length and breadth of the city. With its extensive network of over 350 kilometres, it is the lifeline of the city's transportation system. The metro is not only fast and reliable but also eco-friendly, making it the preferred choice for both locals and tourists.

The Delhi Metro also provides a great way to explore the city's iconic landmarks such as the Red Fort, Qutub Minar, and India Gate, which are all easily accessible via the metro. With its air-conditioned coaches and advanced infrastructure, the metro provides a comfortable and safe mode of transportation for it's users.

This travel guide to Delhi aims to provide you with all the information you need to make the most of your visit to the city. Whether you are a first-time visitor or a seasoned traveller, this guide will help you explore the city's rich cultural heritage, diverse cuisine, and vibrant nightlife, all while using the Delhi Metro to help you navigate the city like an pro.
Weather in Delhi, India
The climate of Delhi is an overlap between monsoon-influenced humid subtropical and semi-arid. It gets very hot and humid in the summer (April-July) and cooler in the winter (December to January). The average temperature in summer can vary from 25°C to 45°C and 22°C to 5°C in the winter.
Monthly average temperatures
January 14°C (57°F) | February 18°C (64°F) | March 23°C (73°F) | April 30°C (86°F) | May 34°C (93°F) | June 34°C (93°F) | July 32°C (90°F) | August 31°C (88°F) | September 30°C (86°F) | October 27°C (81°F) | November 21°C (70°F) | December 16°C (61°F)
Currency
The currency of India is the Indian rupee (INR), which can be divided into 100 Paise (singular: paisa).
It comes in denominations of 2000, 500, 200, 100, 50, 20, 10 and 5 Rupees. Coins come in denominations of Rupees 10, 5, 2 and 1.
Symbol: ₹
ISO code: INR
In most parts of India, the rupee is known as rupaya, rupaye, or one of several other terms derived from the Sanskrit rūpya, meaning silver. Ṭaṅka is an ancient Sanskrit word for money, which you might hear in some parts of the country.
Tipping
The clash between colonial history, tourism, and cultural influences has left the customs surrounding tipping in India a little hazy. In India, tips, often known as baksheesh, are largely voluntary. Tipping in India is less regulated and more dependent on personal judgement.
Generally speaking, the average tip in India is 10%. As always, exact numbers are debatable and depend on the quality of service.
At any hotel in India, you will only be expected to tip those who provide you specific service. A few large hotel chains have a no tipping policy, so make sure to ask the front desk what their tipping policy is.
Internet
India has one of the slowest mobile internet speeds in the world, according to a recent study conducted by VPN brand Surfshark. Dubbed the digital quality of life index, India ranks 59th among 110 nations in terms of mobile internet speed.
Free W-Fi is available throughout the city of Delhi through a state government app. The Delhi Free Wifi App can be downloaded through which users can upload their KYC (know your customer) details. A one time password will be received to activate the Wifi connection.
Delhi also has lots of free Wifi hotspots dotted about the city. Click here for a free Wifi map available for download on iOS and Android to help you find one near you.
The national emergency number for India is 112. The number for police is 100.
Things to do in Delhi
Delhi is the capital city of India and one of the country's most vibrant and bustling cities. It is a city of contrasts, where ancient monuments and modern buildings stand side by side. With a rich history that spans over thousands of years, Delhi is home to numerous landmarks such as the Red Fort, Qutub Minar, and India Gate. The city is also a cultural melting pot, with a diverse population and an eclectic food scene. From the bustling streets of Old Delhi to the trendy cafes of South Delhi, the city offers a unique blend of tradition and modernity.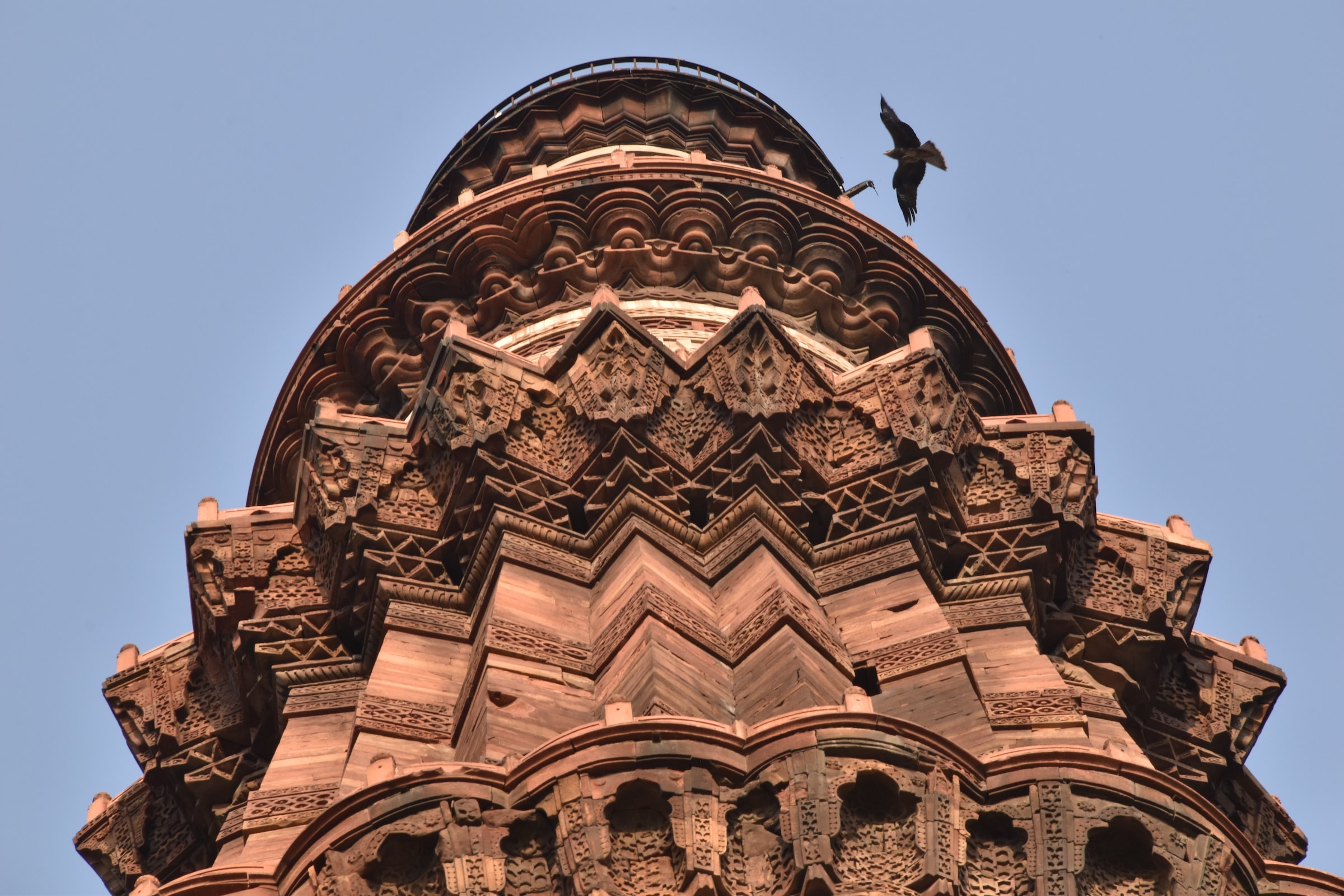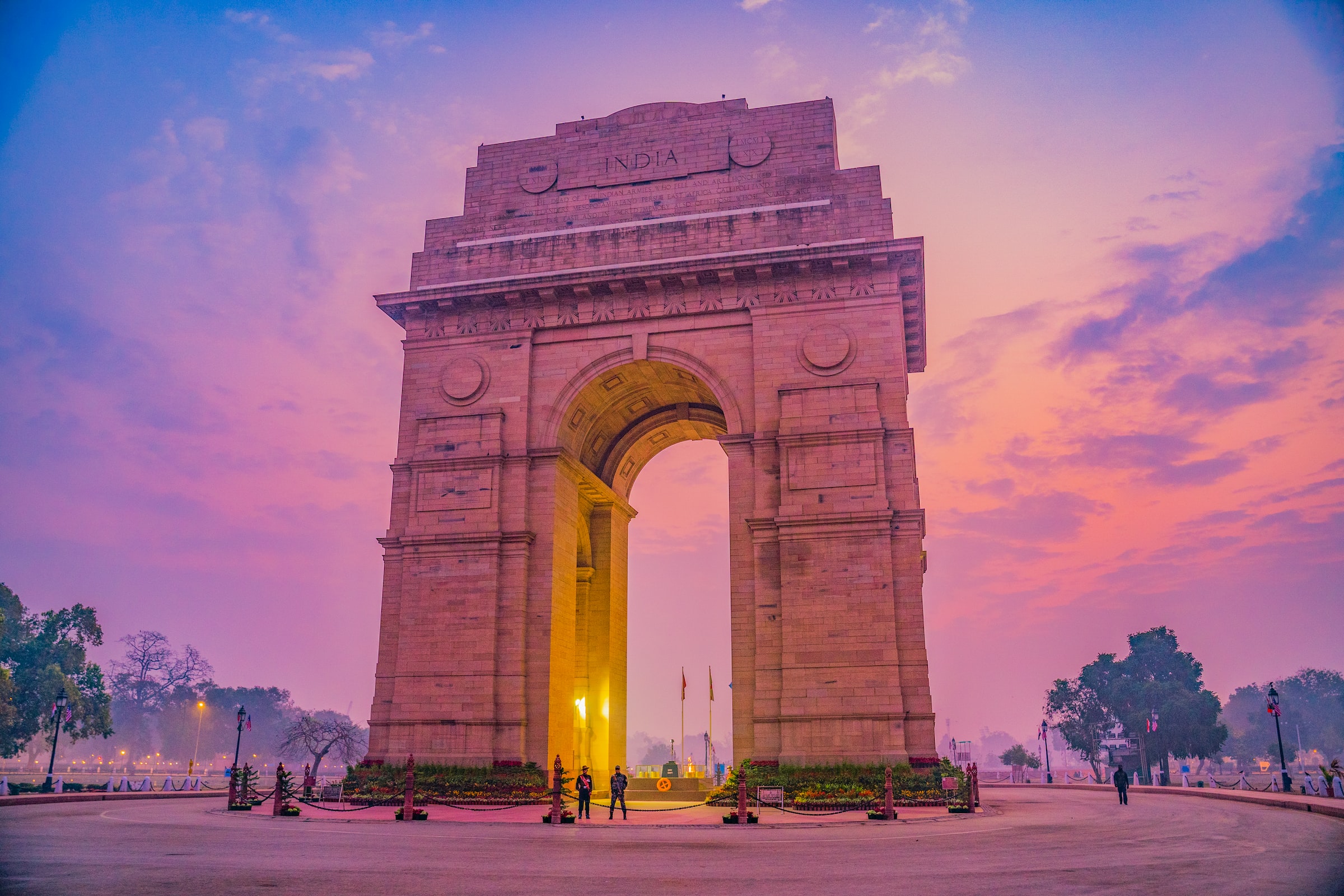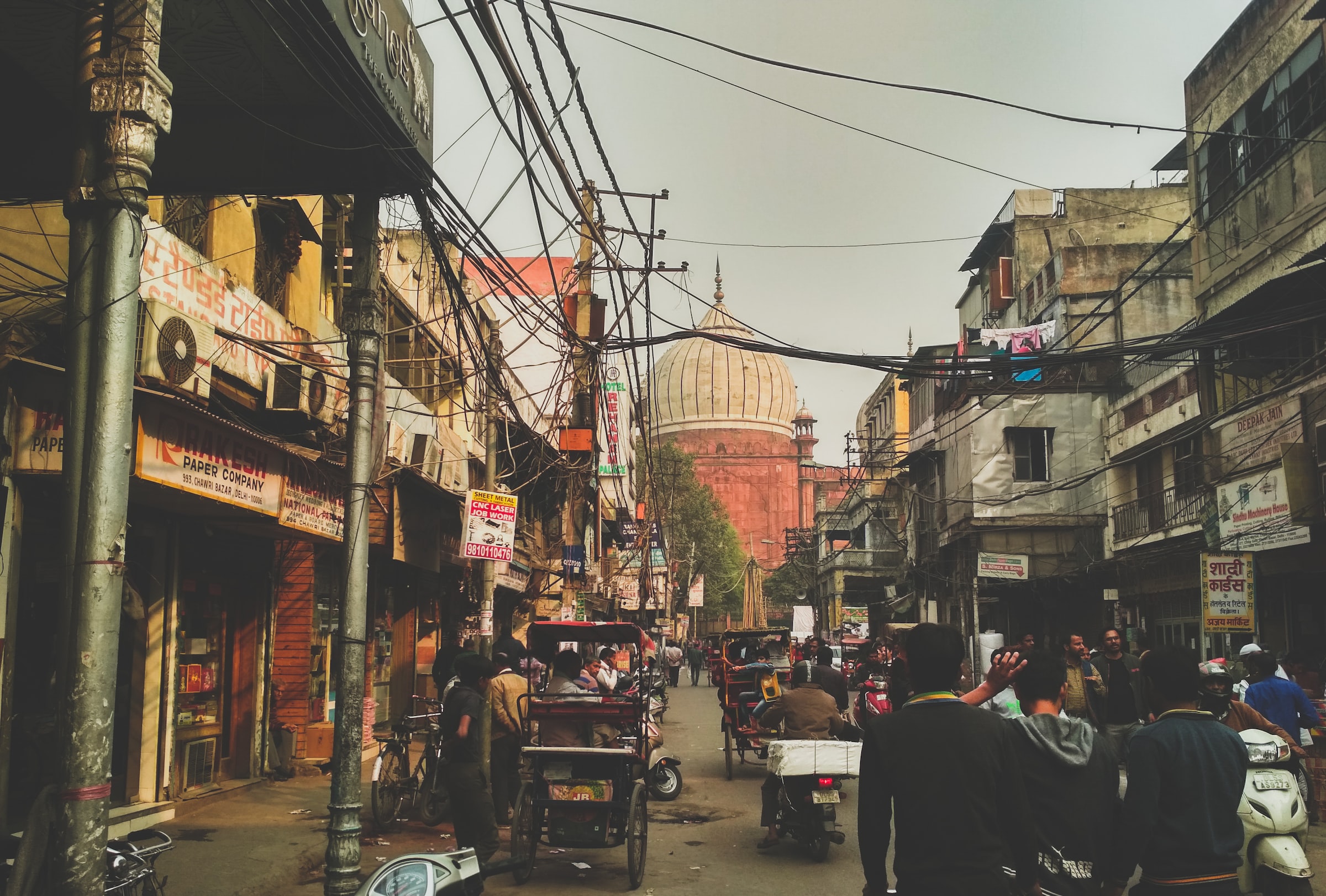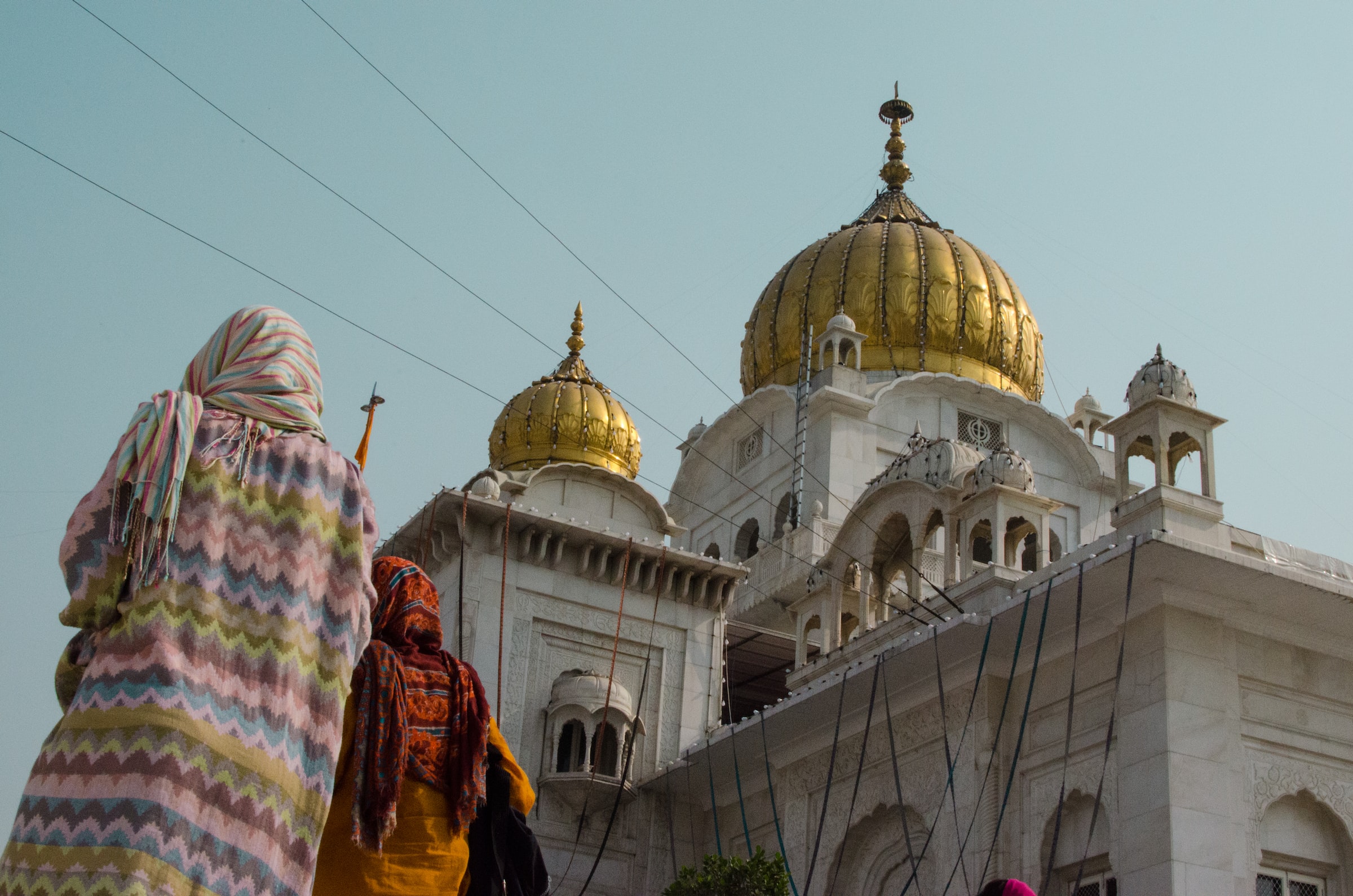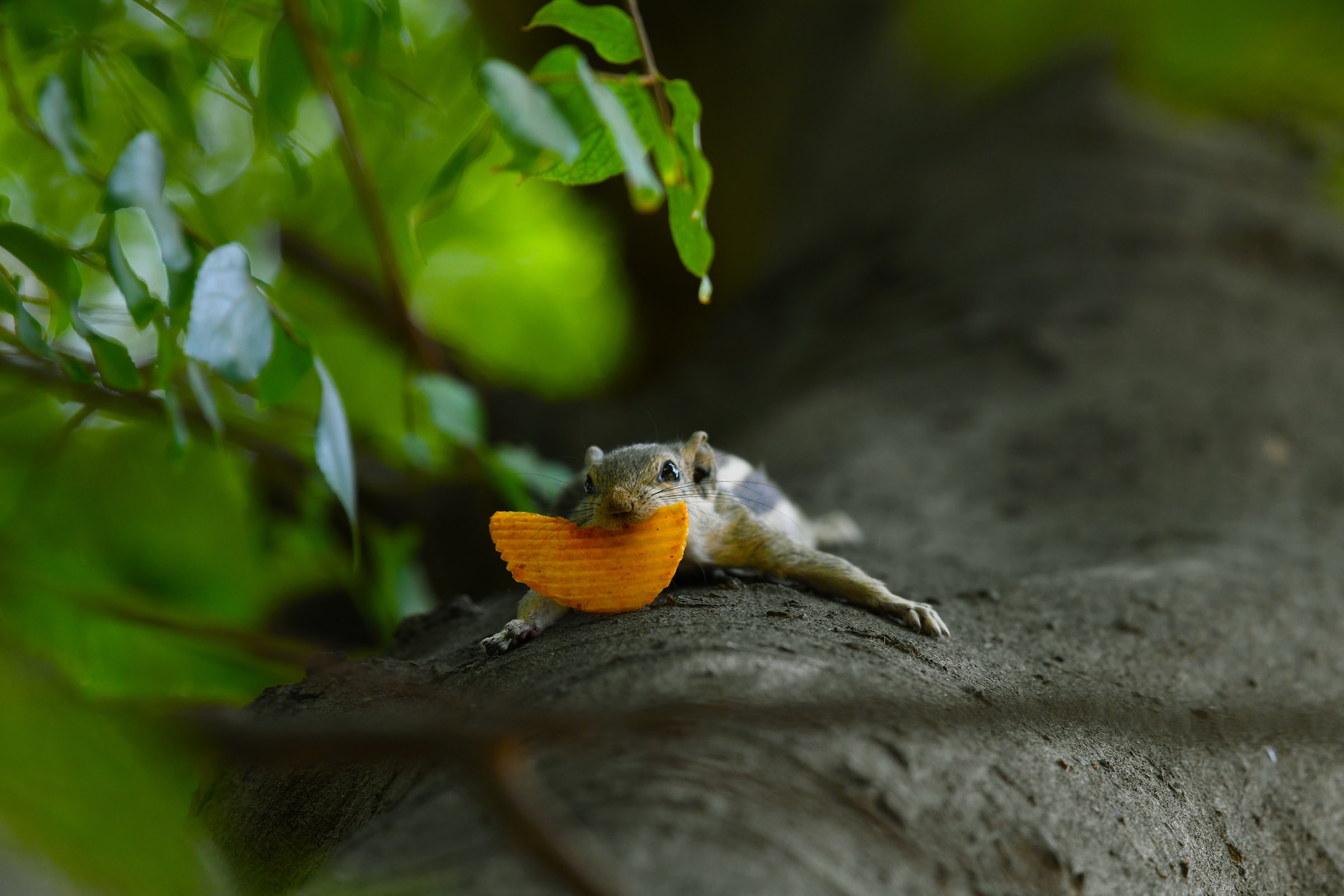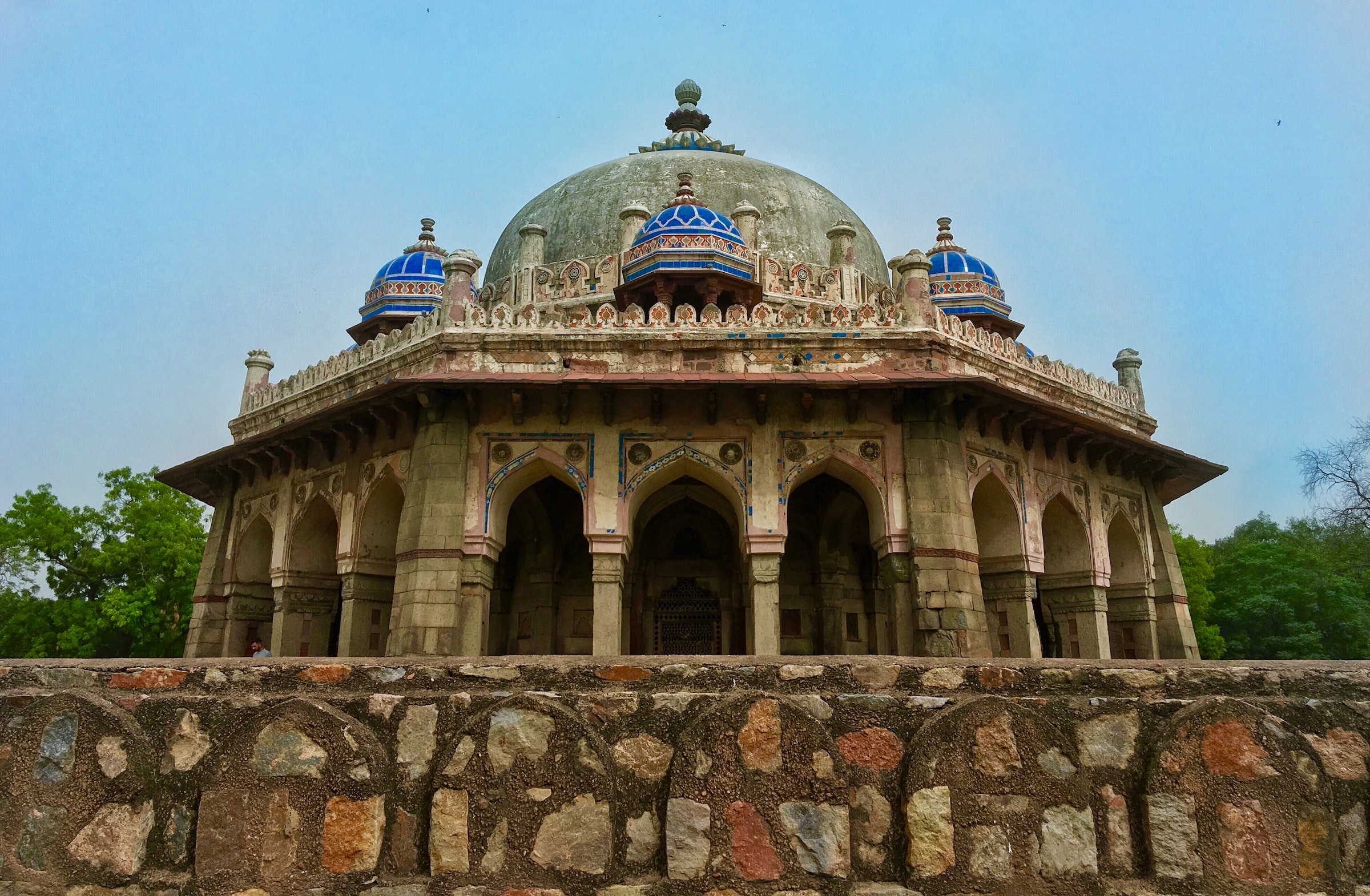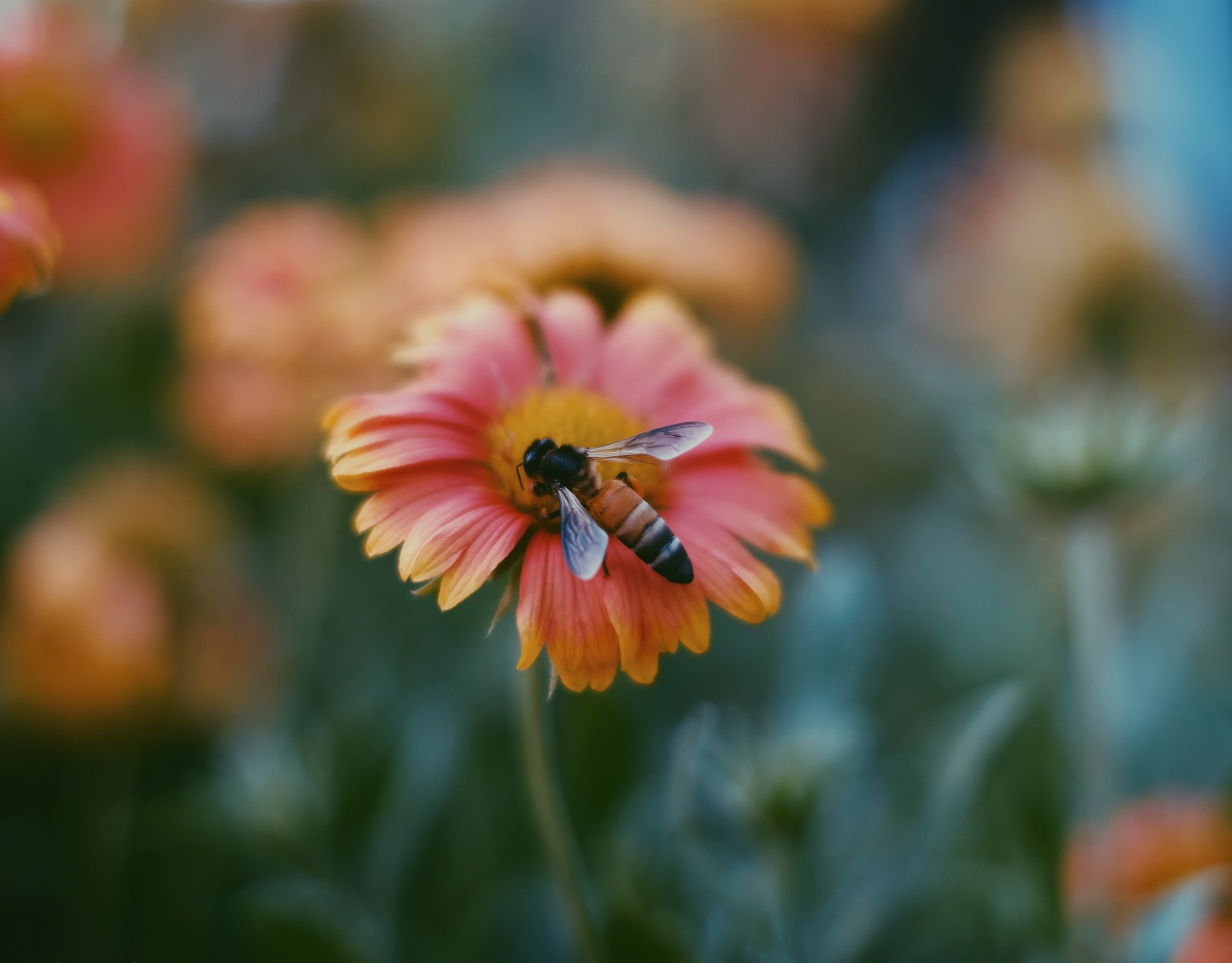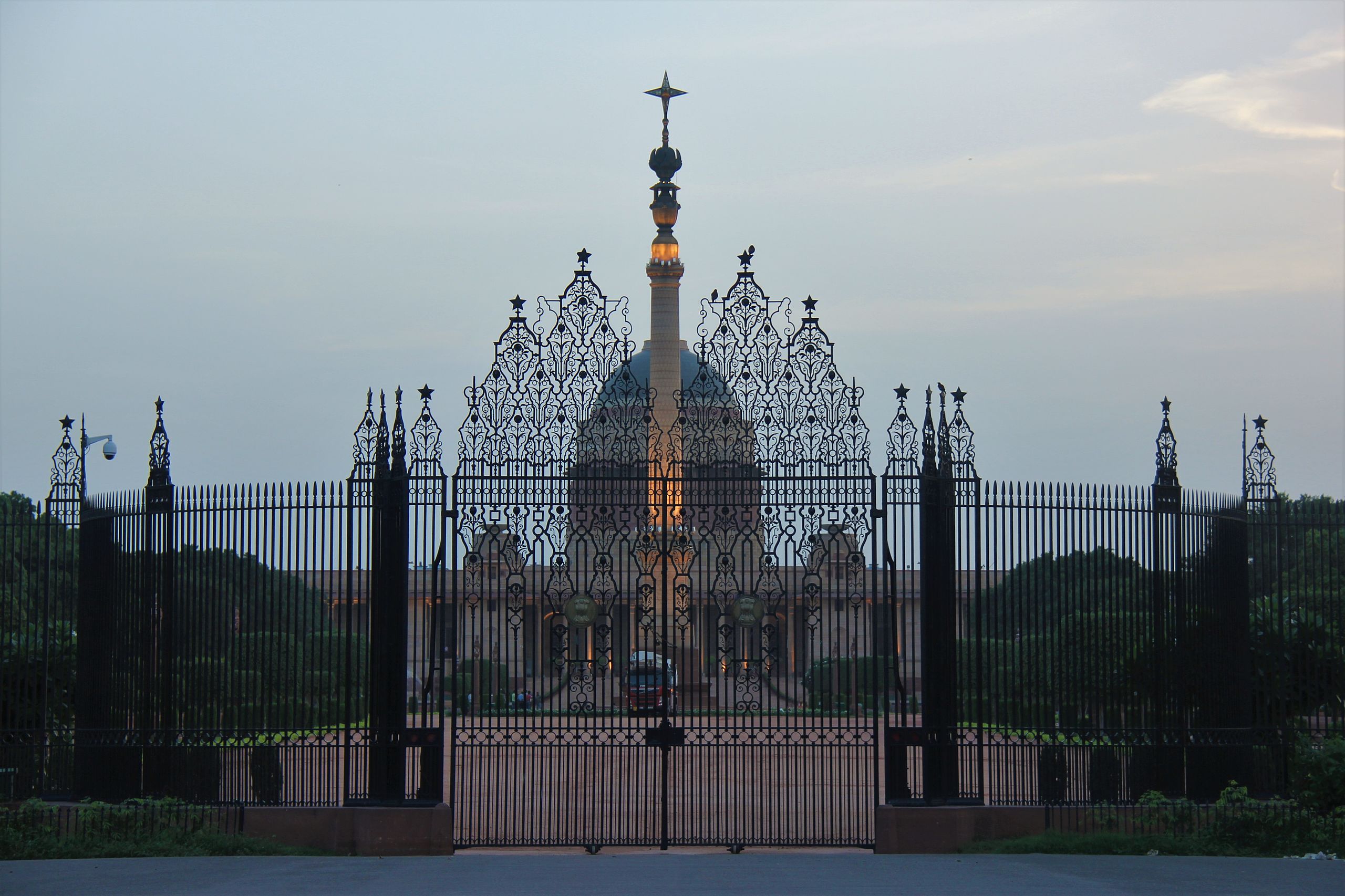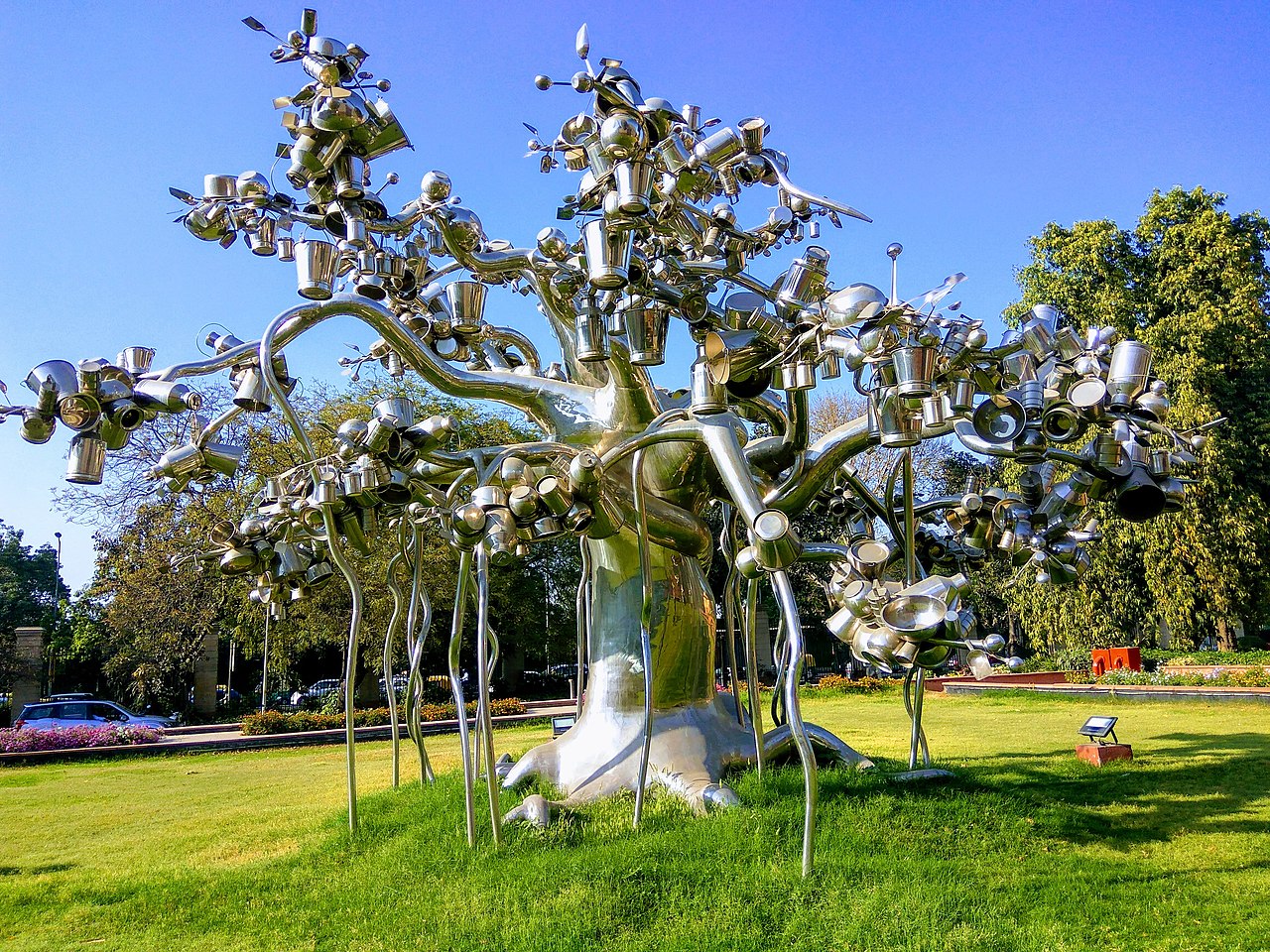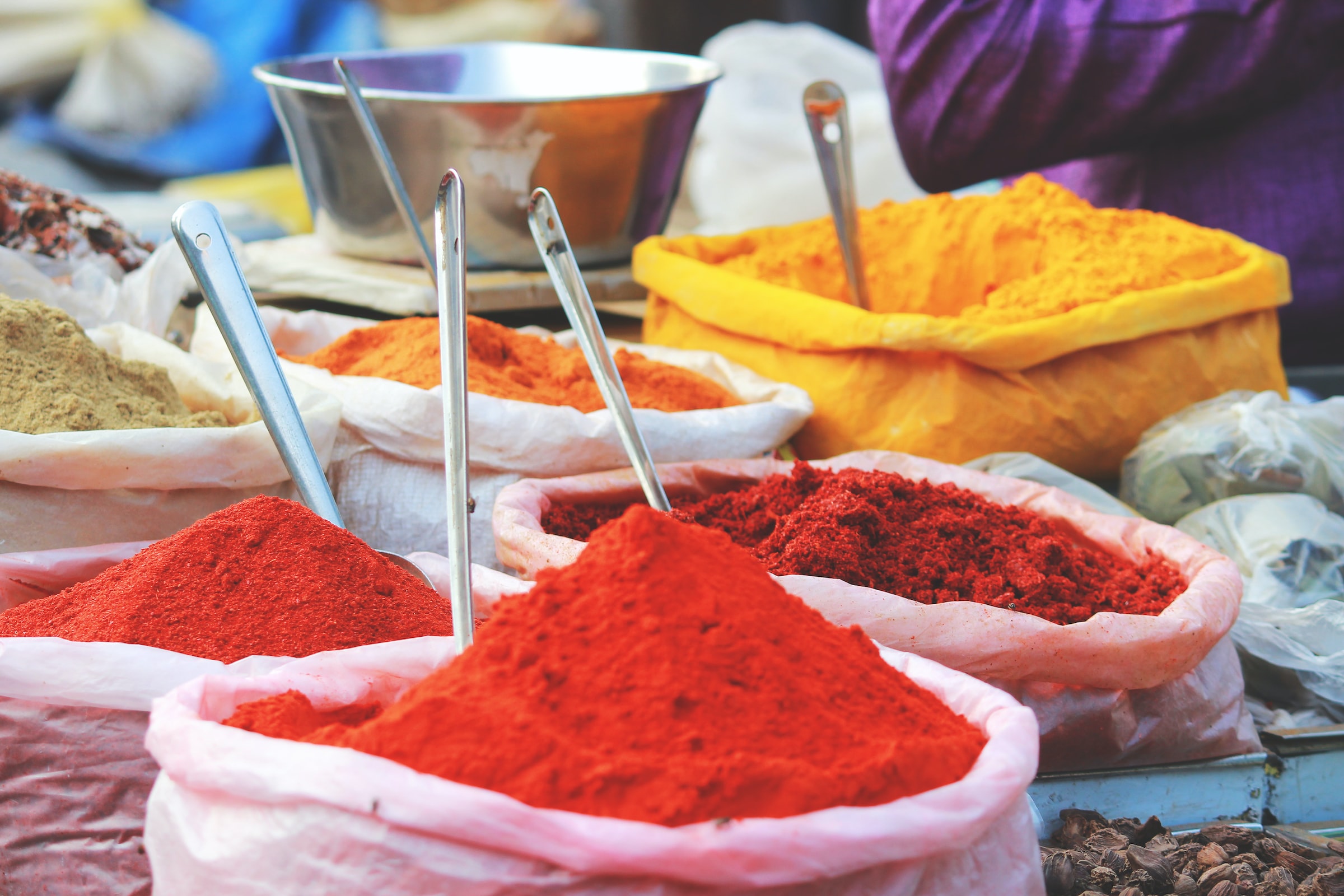 Qutub Minar
An Afghan-style triumph tower and minaret, built by Sultan Qutb-ud-din in 1193 to declare his dominance over the defeated Hindu kings of Qila Rai Pithora. The tower is about 73 metres high and tapers from a base diameter of 15 metres to a height of just 2.5 metres at the top. It is surrounded by elaborately carved sandstone bands with Quranic verses.
Swaminarayan Akshardham
Swaminarayan is a Hindu temple, and spiritual-cultural campus. The complex displays millennia of traditional and modern Hindu culture, spirituality, and architecture. It's also pretty easy to get to, just get the blue line to Akshardham on the metro.
India Gate
The Arc de Triomphe served as the model for India Gate. Deigned by Sir Edwin Lutyens and constructed in 1931 it has an eternal flame and honours India's war dead.
Chandi Chowk
The Fatehpuri Masjid is located at one end of Old Delhi's main street, which is lined with Jain, Hindu, and Sikh temples as well as a church. A highway that was once tree-lined and graceful is now mind-bogglingly chaotic, with small ancient bazaars tentacled off of it. Chandni Chowk, often known as "moonlight area," was built around a pool that reflected the moon during the Mughal Empire.
Gurudwara Bangla Sahib
One of the most well-known Sikh gurdwaras, or Sikh places of worship, in Delhi is Gurudwara Bangla Sahib. Renowned for its connection to Guru Har Krishan, the eighth Sikh Guru, as well as the sacred pond inside of its complex known as the "Sarovar."
Lodhi Garden
An oasis in the middle of a busy metropolis, Lodi Gardens is the ideal location to spend a leisurely afternoon observing nature.
Humayun's Tomb
Humayun's Tomb is said to be the inspiration for the Taj Mahal, which it predates by 60 years. Following the exact guidelines of Islamic geometry, with an emphasis on the number eight, the building's arched exterior is inlaid with bands of white marble and red sandstone.
Red Fort
This fort, which took ten years to build (1638–48), was encompassed by a beautiful 18-meter-high wall built by Emperor Shah Jahan. It is rumoured that prisoners' beheaded remains were incorporated for good luck into the fort's foundations.
Sunder Nursery
Delhi's best Heritage Park is Sunder Nursery, which is located close to Humayun's Tomb. Listed in Time magazine's 2018 edition of the 100 GREATEST PLACES IN THE WORLD. Other features include six World Heritage Monuments, 300 species of tree, lakes, locations for cultural performances, and 80 species of birds.
Rashtrapati Bhavan
Formerly home to the British Viceroy, the President's House has 340 rooms, with 2.5km of corridors, and it's fascinating to take a peek inside. If you come here here on a Saturday morning, you can watch the Changing of the guard.
The National Gallery of Modern Art
The National Gallery of Modern Art is India's top art gallery and is a department of the Ministry of Culture. On March 29, 1954, the Indian government opened the main museum at Jaipur House in New Delhi, followed by subsidiaries in Mumbai and Bangalore.
Pandara Market
Food enthusiasts in Delhi would be sure to recommend Pandara Road if you are in the mood for rich Punjabi food or spicy meat dishes. The market area of Pandara Road is bustling with people all year long as they make their way to indulge in delicacies like butter chicken, barrah kebabs, chicken tikka, dal makhani, and more. It is particularly known as the place for butter chicken in Delhi.
Delhi Metro
The Delhi Metro is a mass rapid transit system serving Delhi and its satellite cities of Ghaziabad, Faridabad, Gurgaon, Noida, Bahadurgarh and Ballabhgarh, in the National Capital Region of India. The network consists of 10 colour-coded lines serving 225 stations, with a total length of 348.12 km.
How to get around on the Delhi Metro
The map of the Delhi Metro will be available to view in the metro stations. However if you need one to carry with you, the Mapway app includes our version of the Delhi Metro map and is free to download on iOS and Android. There is also a journey planner and step-by-step guides to help you get where you need to go and it works offline (so no worrying about Wifi and data!).
Tickets
Tokens can be purchased and used for a single journey. They are available from the ticket counter or a token vending machine and are only valid for the day of its purchase. If you are going to be using the metro frequently, it would be a good idea to get a smart card or tourist card.
Smart cards allow you to top up your credit at stations and then tap in and out of metro stations. You can recharge your smart card online through DMRC's portal: https://www.dmrcsmartcard.com/, or in metro stations at ticket vending machines. Tourist cards allow you unlimited travel on the Delhi metro with the exception of the Airport Express Line. A one day tourist card costs Rs. 200 and a three day card costs Rs. 500.
Operating hours
The Delhi metro operates from approximately 5:00am till 23:30pm everyday with slight differences depending on the line and station. For example, the airport express line operates from 4:45am to 23:30pm.
Its always a good idea to check the specific operating hours of your line before you travel. For more information, click here to get to the Delhi Metro website.
Accessibility
Delhi Metro stations provide a number of facilities to help make travel easier for those with disabilities. Lots of stations have elevators to help individuals reach their platform. Flap gates have also been installed to regulate the inflow of passengers to the platform, these gates can be opened extra wide to allow wheelchairs through. Similarly, the platform's are lined up to the same height as the train coaches, allowing for easy access. It should be noted that during peak hours, metro stations can become very crowded, so try and avoid these hours for an easier journey.
Alternative transport
There are many way to traverse the city of Delhi. Some examples being: Intra-city buses, inter-state buses, suburban railways, auto-rickshaws, cycle-rickshaws, hired cars and personalised modes such as cars and mopeds. While these are great options, the majority of them use the roads, which can become extremely busy and congested, especially during rush hours. This is why the Metro is great, as you can dodge all the busy traffic and get to your location nice and easily.
How to get to Delhi from Indira Gandhi International Airport (DEL)
Getting to your location in Delhi from Indira Gandhi International Airport is very easy and straightforward thanks to the Airport Express lines that join onto the metro.
Depending on which terminal you land at, your journey will be a little different.
If you're at terminal 1, follow signs for the Terminal 1 IGI Airport station. From here, you can either take the line in a westerly direction and transfer to the blue line, or alternatively, head east and transfer to the yellow line. Both directions will help you get to your destination in Delhi.
If you are at terminal 2, follow signs for either the Airport or Delhi Aerocity. Take the airport express line into the city. You can either tranfer at Dhaula Kuan on the pink line, or head into the city centre and get off at the New Delhi station, which is on the yellow line.
Foods to try in Delhi: Chaat
Chaat is one of the most popular street foods in Delhi. The original chaat is a mixture of potato pieces, crisp fried bread, chickpeas and tangy-salty spices, with sour Indian chilli and saunth (dried ginger and tamarind sauce), fresh coriander leaves and yogurt for garnish. Head down to Chandni Chowk (the street food capital of Delhi) to find some unreal chaat!