Back to blog
London transport can get incredibly crowded, so it's essential to know which Tube stations are the busiest and how you can avoid them.
Understandably major train stations and tube stations that cover multiple lines are the busiest on the network. They feature heavily on this list but there may be one or two entries that surprise you.
The Top 10 Busiest Tube Stations
Amazingly, the list has stayed almost exactly the same since last year with the exception of Victoria and Oxford Circus which have swapped places.
We've written guides for every station on the list to help you find the best way to avoid them and help make your shopping trips go more smoothly!
1. Avoiding Waterloo, the busiest Tube station
If you get off at Westminster or Embankment, it's a 10-minute walk across the Golden Jubilee Bridges back to Waterloo.
Out of the 2, Westminster station is slightly busier and the surrounding streets can be crammed with tourists. So for a quicker journey Embankment is the best option.
But if you've already got your arms filled with shopping, Westminster is actually easier to navigate and is more accessible.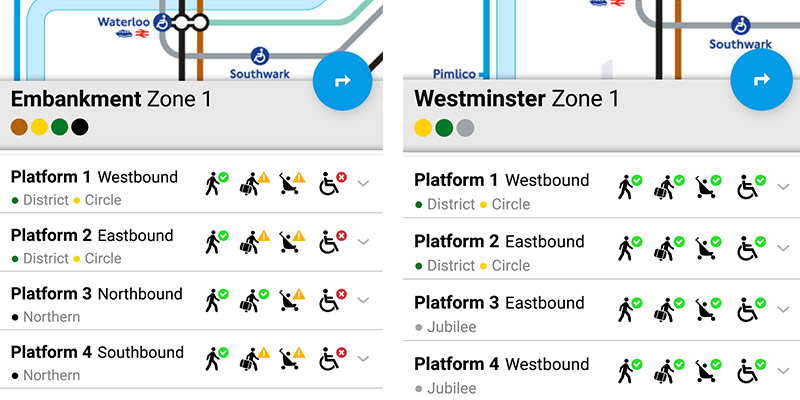 2. Avoiding King's Cross St Pancras
Unless you're trying to visit platform 9 ¾ the famous Harry Potter landmark, King's Cross should be avoided. If you're using the Northern or Victoria lines, Euston is nearby but can get really busy too. In fact, it's only a couple of spots away from the top 10 list above.
Warren Street is roughly 17 minutes walk away from King's Cross but is much quieter. If you're on the Circle, Metropolitan or Hammersmith & City lines, Euston Square is also a good alternative.
In terms of accessibility for people with luggage, the two stations are about the same with the exception of the Eastbound platform at Euston square which might cause issues.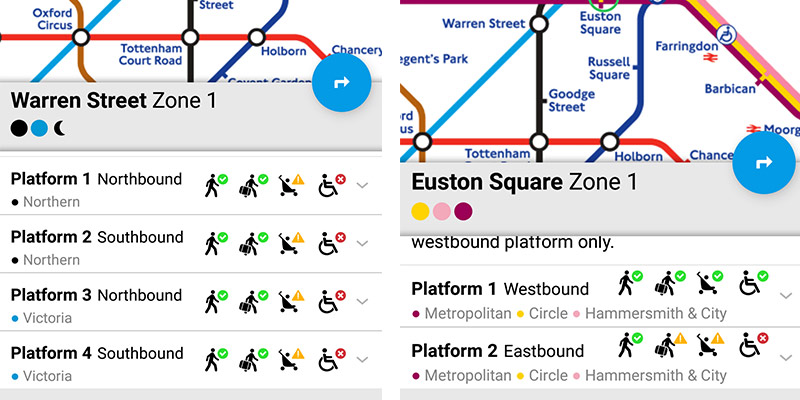 3. Avoiding Victoria Station
The area around the station doesn't offer as much choice for shopping as somewhere like Oxford Street but it is located near Buckingham Palace and Westminster Cathedral, which means lots of tourists.
Green Park comes to the rescue again and St James's Park is just a 15-minute walk away. But if you're planning on doing some extra special shopping at Harrods, change at Green Park and take the Piccadilly line to Knightsbridge.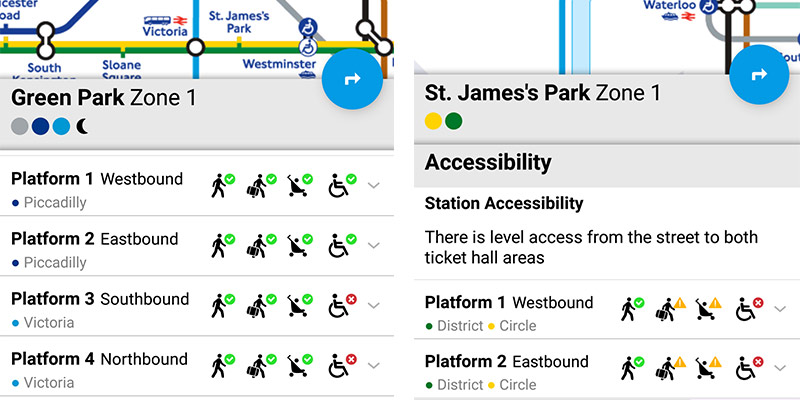 4. Avoiding Oxford Circus
Close to London's most famous shops, Oxford Circus is packed with tourists and enthusiastic shoppers all-year-round. At busiers times of the year like Summer holidays and Christmas, this particular tube station will be difficult to get in and out of.
Thankfully there are 5 stations that are all within 15 minutes walk of Oxford Circus AND most of those get about half as many people passing through. Tottenham Court Road is the quietest of these by far, getting about 20% of the traffic that Oxford Circus does. But for accessibility Green Park can't be beaten with lifts available for all of its platforms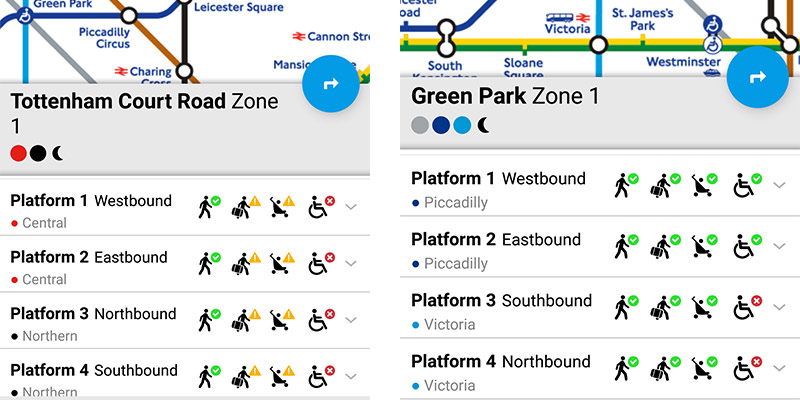 5. Avoiding Liverpool Street Station
It will come as no surprise by this point that another major train station has made it to the list. Liverpool Street Station can get pretty hectic but if you go one stop further/ fewer and get off at Moorgate you'll have a much easier journey. And it's just a short 10-minute walk away.
If you're taking the Central line, Bank is really close too but it's one of the busiest tube stations in terms of people changing lines and is no. 8 on our list. So you're best changing at Liverpool Street and heading to Moorgate.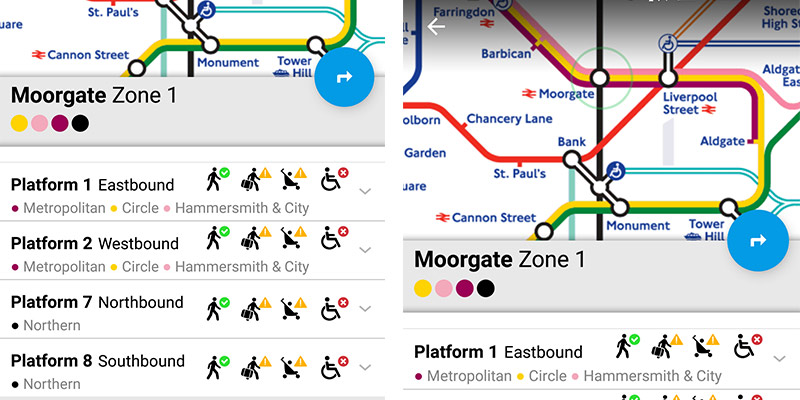 6. Avoiding London Bridge
London Bridge is a little trickier to avoid as it sits close to similarly busy stations, Monument and Waterloo. Thankfully Borough and Southwark Station are both a short walk away and are much closer than they seem on the Tube Map.
Southwark Station is easily accessible, making it great for anyone carrying armfuls of shopping. Borough's Northbound platform is also fully accessible but the Southbound has 18 steps down to the platform.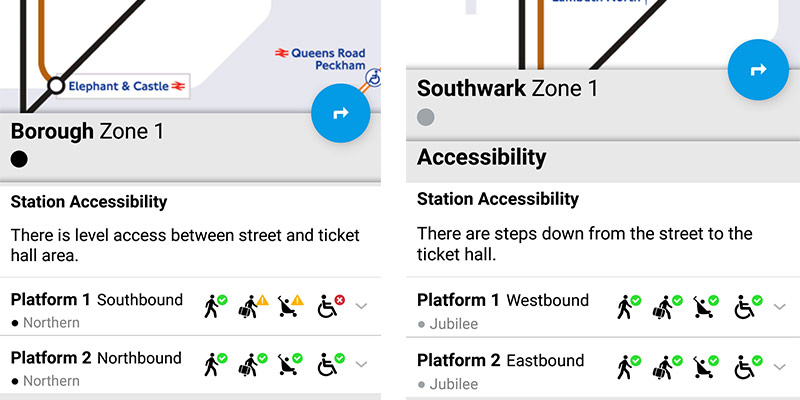 7. Avoiding Stratford
It's no wonder Stratford is so busy. It has connections to the Central and Jubilee lines, the DLR, TfL Rail AND the Overground!
Maryland station is about 10 minutes walk from Stratford Centre so it's the ideal station to use if you're travelling in on TfL Rail.
If you're planning on doing some shopping at Westfield Stratford City then Stratford International is practically next-door and for accessibility, it gets top marks.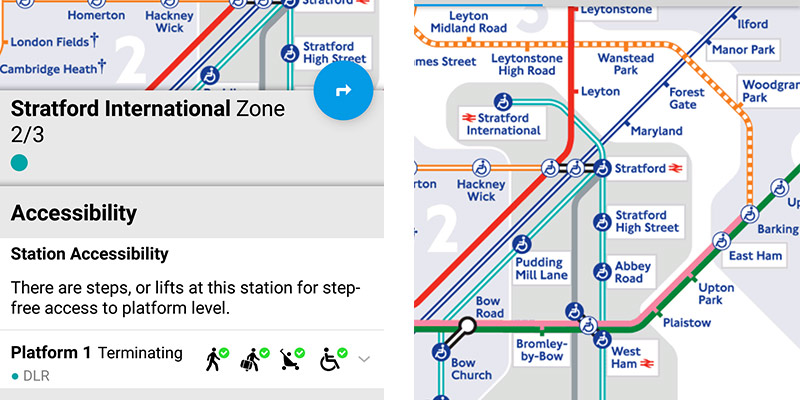 8. Avoiding Bank and Monument
Bank is one of the most complicated London Underground stations to navigate, made more difficult by the fact it's connected to Monument station by an underground tunnel. It's busy, complex and definitely best avoiding.
Cannon Street and Mansion House are both less than 5 minutes walk away which make them ideal alternatives if you're travelling on the Circle and District lines. Accessibility wise they're both about the same, except for Cannon's Westbound platform which can be accessed by a lift.
If you're using the Central line or Northern line, St Paul's and Moorgate are about 10 minutes walk away. Moorgate looks like it's further away but it's only a matter of a couple of extra minutes. They both get moderate scores for accessibility so it just depends on what Tube line you're using.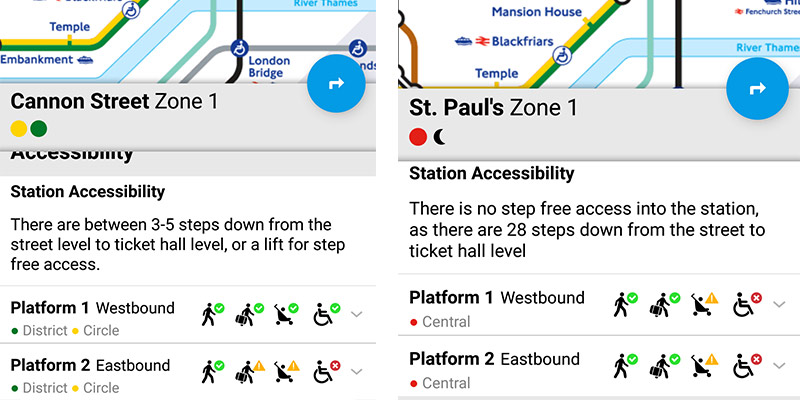 9. Avoiding Canary Wharf
Like many stations on the Tube Map there are actually 2 "versions" of Canary Wharf, a Jubilee line one and a DLR one. If you're taking the Jubilee line, Canary Wharf's nearest neighbour is more than a half-hour walk away. That means your best bet is to take the DLR if you can.
Heron Quays is just a few minutes walk away and gets about two thirds less traffic than Canary Wharf. And as a bonus, it's directly connected to the underground shopping centre at Jubilee Place. There's step-free access to all platforms so it also scores full points for accessibility.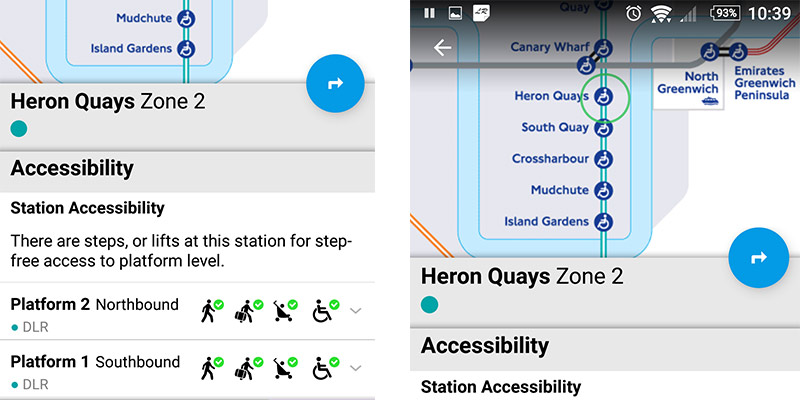 10. Avoiding Paddington
One more major train station to finish off the list. Paddington is a bit of a pain to navigate and if you use the wrong entrance you can end up walking quite a long way. Save yourself the hassle and get off at Edgware Road instead. It covers all of the same lines and is much quieter. There are actually 2 different Edgware Roads but as they're a 2-minute walk from each other it's not worth worrying about.
A surprising alternative, however, is Lancaster Gate on the Central line. The Tube Map makes it look like it's nowhere near Paddington, when in reality it's the nearest in terms of walking distance (at less than 10 minutes). In terms of accessibility the two stations are about the same so take your pick!
It's also worth noting that Lancaster Gate is next to Hyde Park, making it the perfect station to use if you're paying a visit to Winter Wonderland.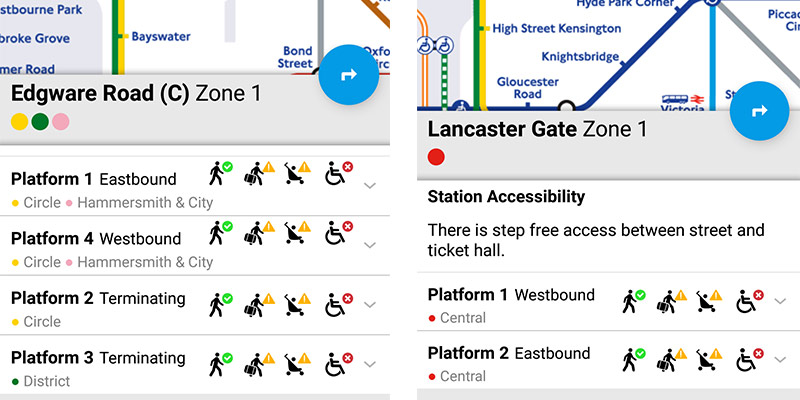 We've got more useful guides on the way so be sure to check back soon or keep an eye on our Twitter and Facebook Pages for more information.
For the latest live information about the London Underground download Tube Map for free on iOS and Android.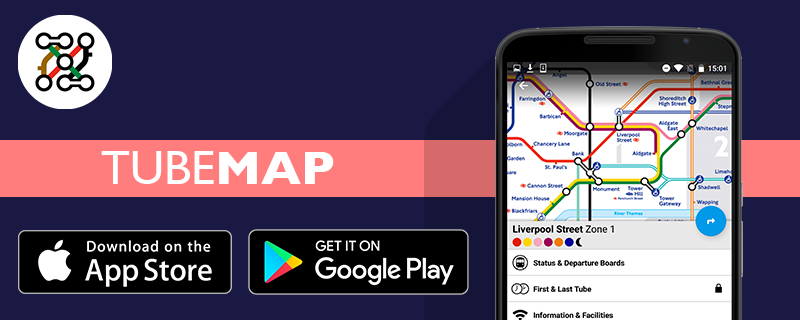 List of busiest stations based on Transport for London's station passenger usage data published April 2016 and using data from 2015.
*Screenshots from Tube Map on Android. Accessibility features in development for iOS.
Back to blog