Back to blog
We are proud and excited to reveal that Mapway has been chosen as one of Greater Manchester's most innovative businesses in the 
Innovation 100
 report. The report by
BQ
and
Business Growth Hub
is an initiative designed to highlight the most forward-thinking companies in Greater Manchester.
At Mapway we strive to be at the forefront of innovation, investing a large amount of resource to working exclusively with new technologies. From the latest software and hardware products announced by Apple and Google, to building new technologies that will revolutionise the mobile application and transport planning landscape. The BQ judges recognized our work with new technologies. One example of this, that we are particularly proud of, is 
Augmented Reality
. AR has seen huge steps forward and at Mapway we have been exploring the practical uses of the technology. Our iOS developers have spent a lot of time investigating and working with Apple's new ARKit and have created an exciting
new feature for our Bus Times London app
that transforms the way our users navigate. The new feature helps users to find their bus stop by following a path on the ground that they can view through their camera.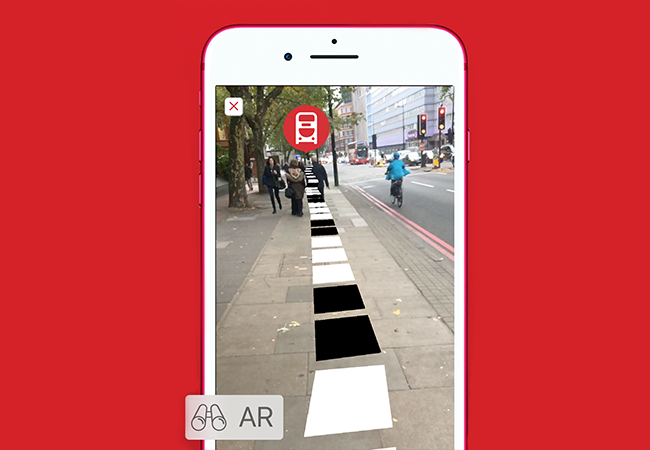 We wouldn't be the app development company we are today, celebrating this fantastic achievement, without our incredible team. The amazing thing about our developers and designers is that they rarely need encouragement to innovate. They're always looking for the next big thing in tech and love discussing the best ways to move our apps forward. One of the reasons we were chosen for Innovation 100 is because Mapway is committed to giving developers the time they need to focus on innovation. We dedicate entire sprints towards working on the latest software available from Apple and Google. As a team we have a number of technology evangelists where part of their job is to stay up-to-date with emerging technologies, including for iOS, Android and other specialisms. And yes, there is a bit of friendly rivalry between iOS and Android developers! But that's just because everyone is so passionate about what they do. We are delighted that these efforts have been recognised by BQ for the Innovation 100. A big thank you to the judges for selecting us, you've made the team at Mapway very happy indeed!
Read the full Innovation 100 report now.
If you are interested in joining one of the most innovative app development companies in Greater Manchester, please see the bottom of our About Us page for available positions. Alternatively, if you feel you have skills that would be well suited to Mapway, email your CV to Recruitment@Mapway.com
Back to blog