Back to blog
The Night Tube launched on 16th August 2016 with just two lines. Since then the service has gradually expanded to include five Tube lines and an Overground line, making a big difference to late-night/ early-morning travellers.
However, the Night Tube is currently running on the Victoria and Central Lines only, and is affected by strikes. London Overground also operates a Night Service.
When does the Night Tube run?
The London Underground Night service runs for 24 hours on 
Fridays
 and 
Saturdays
.
Which lines does the Night Tube run on?
The service will normally runs all night on the Central, Jubilee, Northern, Piccadilly and Victoria lines, as well as a section of the London Overground.
How often do the night trains run?
Central line
White City to Leytonstone – Every 10 minutes. Ealing Broadway to White City – Every 20 minutes.
Jubilee line
Entire line – Every 10 minutes.
Northern line
Morden to Camden Town – Every 8 minutes. Camden Town to High Barnet/ Edgware – Every 15 minutes.
Piccadilly line
Cockfosters to Heathrow Terminal 5 – Every 10 minutes.
Victoria line
Entire line – Every 10 minutes.
London Overground
Entire line – Every 8 minutes.
When does the Night Tube "end"?
When trains run through the night and into the next morning, you might wonder when one day ends and the next technically begins. It might seem like a minor point but it does have an impact on your fares. The official cut-off point for the Night Tube is at 4:30am. So if you're using a Day Travelcard, all of your journeys have to be completed before 4:30am.
How much will fares be for the Night Tube?
It will cost you a 
standard off-peak fare
. The official cut-off time between one day and the next will be at 4:30am. In other words, if you have a Day Travelcard that you bought on a Friday, you need to start your journey before 4:30am Saturday for it to still be counted on Friday's Travelcard.
Is accessibility affected during the Night Tube?
Any stations with step-free entrances will keep these open throughout the night so everything should operate just as it does during the day. The Night Tube Map includes symbols to show which stations have step-free access. But if you want more detail, Tube Map on Android has full accessibility ratings and information for each platform.
What does the TfL Night Tube Map look like?
There are more lines than ever on the now-familiar blue background. With the addition of the London Overground line, the map looks like this.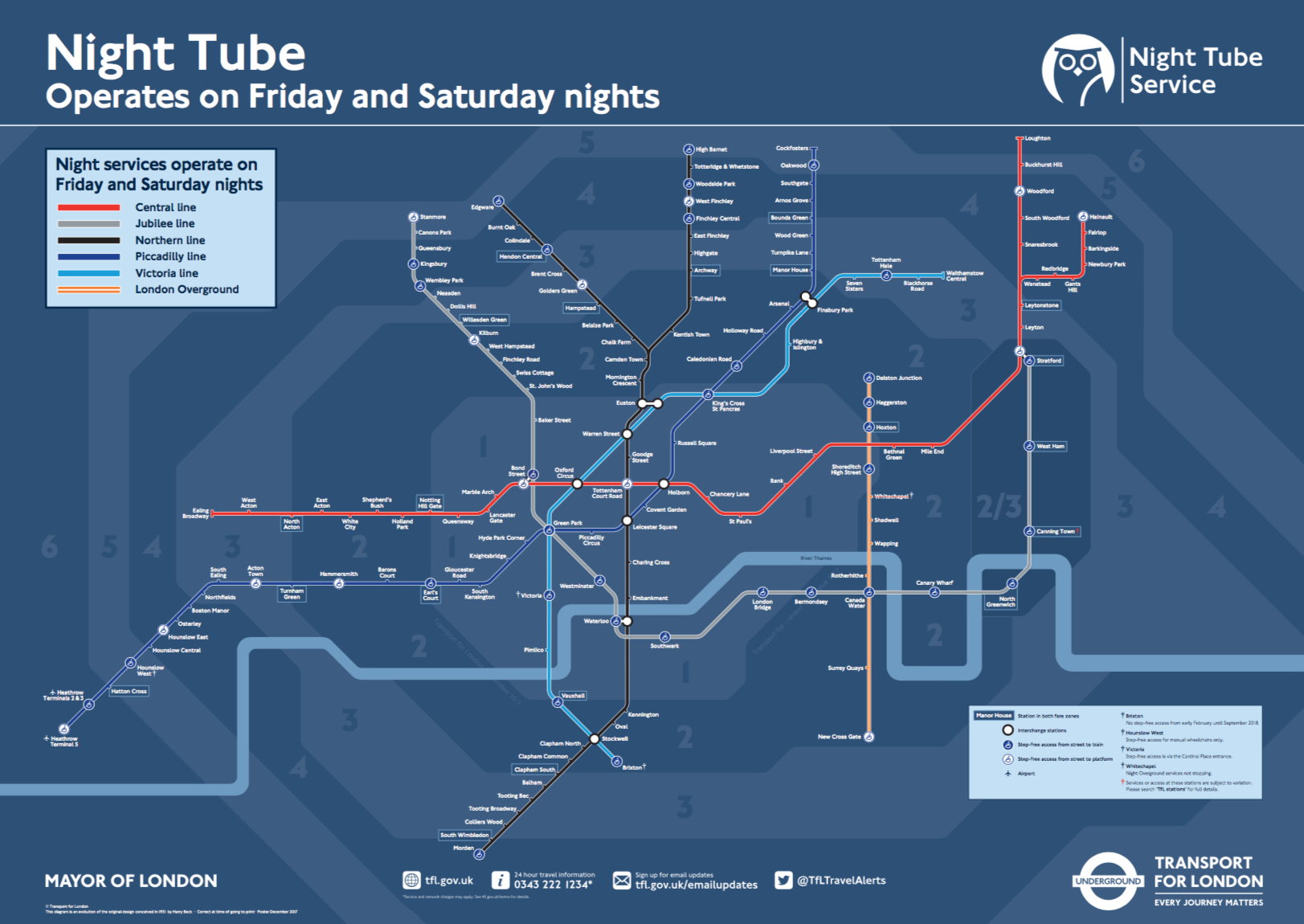 Will I still be able to use the Tube Map app?
Yes! We've got a Night Tube feature and an updated map. You can switch between 3 main maps, the normal (day-time) Tube Map, the Night Tube Map and the Rail Map.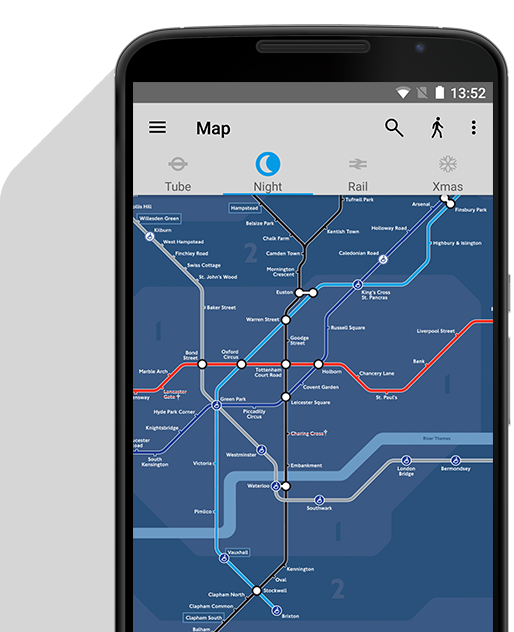 The route planner also includes a Night Tube option. Turn this on and you will be able to plan a route between any two stations on the Night Tube (marked by a moon icon). If you go into the Route Planner while viewing the Night map, this option will be turned on automatically, so you can keep using Tube Map all night long.
Tube Map is free on Android and iOS and includes the latest Night Tube Map.
When did each of the lines open on the Night Tube?
June 2015 – Night Tube map revealed with 5 lines.
August 2016 – The Night Tube launches with the Central and Victoria lines.
October 2016 – Jubilee line is added to the map, connecting major locations like Canary Wharf, North Greenwich (which is next to the O2) and Westminster.
Sadiq Khan said "…with industries like banking, tech and media running around the clock at Canary Wharf, not to mention our own maintenance, security and cleaning staff, the Night Tube is going to help a lot of people get to work more easily."
November 2016 – Northern line is added to the map.
December 2016 – Piccadilly line is added to the Night Tube, completing the map first shown in 2015.
December 2017 – London Overground is added to the map.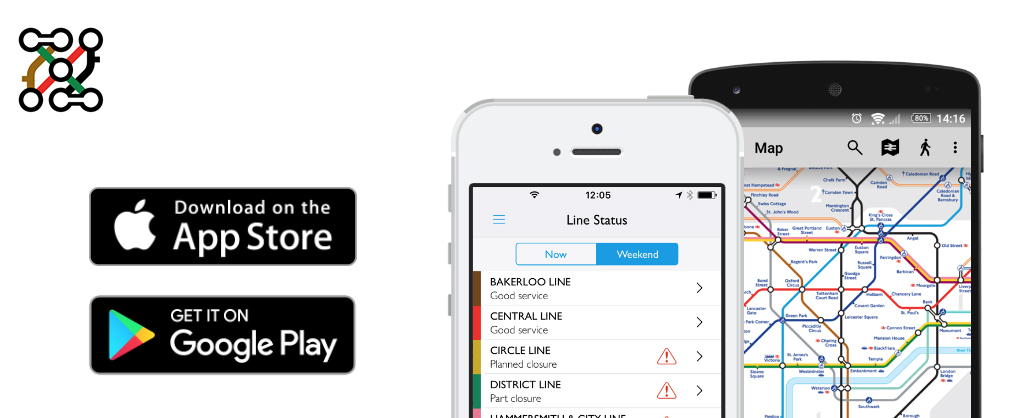 Night Tube Map copyright Transport for London.
Sadiq Khan quote source: Evening Standard
Back to blog